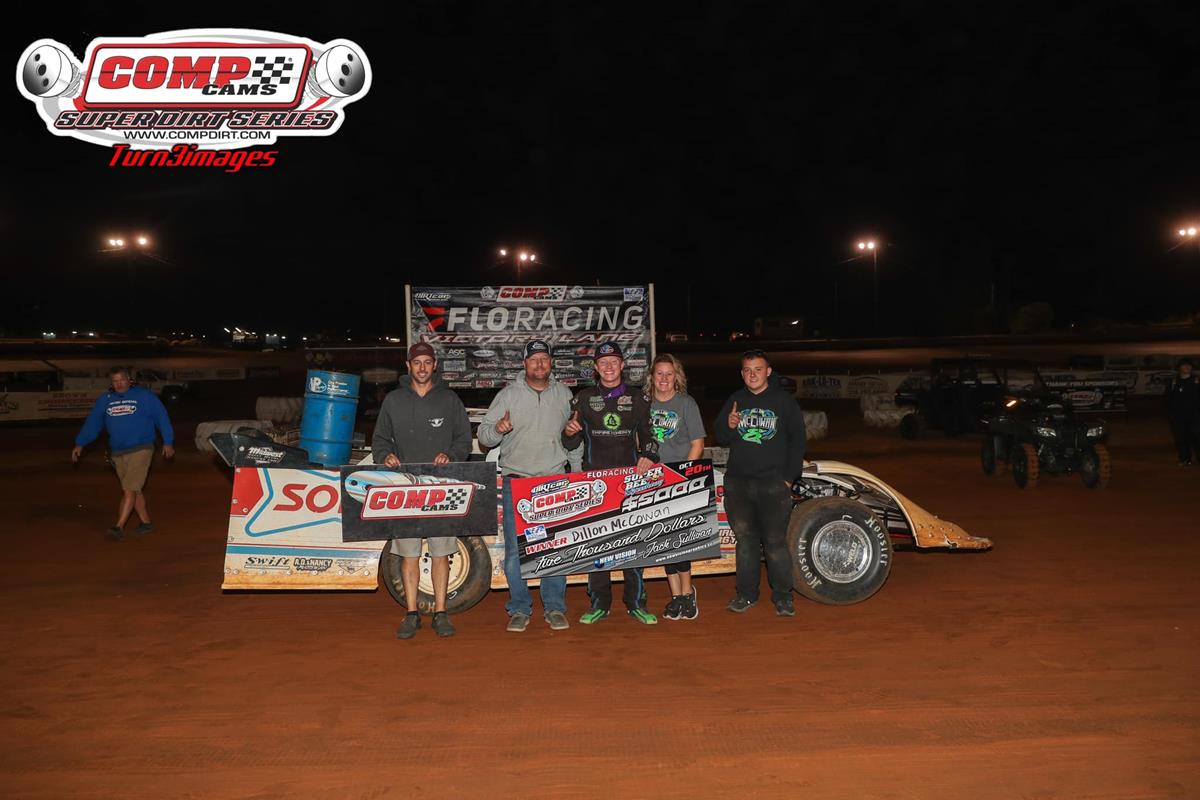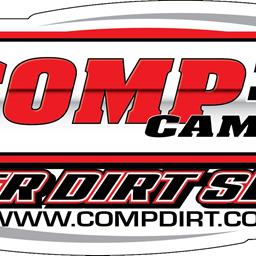 10/21/2023
COMP Cams Super Dirt Series (CCSDS)
---
McCowan Masters First CCSDS Feature
CHATHAM, La. (10/20/23) – Missouri rising star Dillon McCowan raced to the lead on lap 12 of Friday night's opener of the 30th annual Spooky 50 with the COMP Cams Super Dirt Series (CCSDS) Super Late Model Series and never looked back en route to his first-career win with the tour.
The maiden trip to victory lane for McCowan was worth $5,000.
"You gotta make something happen, I was back there in sixth and it was (kinda) time for a hail Mary," McCowan said in FloRacing Victory Lane. "We've been here once in our modified and I really enjoyed it, we definitely wanted to get down (to race) here and have another go at it. It was a super good track tonight, we traveled eight hours and it definitely makes it worth our while. (Sweeping the weekend) would mean more than a lot of people would ever dream of; winning one of these has always been our dream, my dream especially, this is our first sanctioned Late Model win and I'm pretty speechless, honestly."
Kyle Beard and Bubba Mullins brought the field to the green flag with the home state Mullins snaring the lead for the first 11 circuits before McCowan rocketed from the sixth-starting spot into the lead. Once out front McCowan never looked back, taking his inaugural CCSDS checkered flag by 1.131 seconds.
Meanwhile, Beard crossed the finish line in the second position and his finish paired with Billy Moyer Jr.'s eighth-place finish reduced Beard's deficit for the championship behind Moyer Jr. to just 23 markers heading into Saturday night's season finale.
Additionally, Jamie Burford holds a 30-point lead over Jarret Stuckey for the Midwest Sheet Metal Rookie of the Year battle with one event remaining.
Mullins, Tanner Kellick, and Brandon Ball completed the Top-5 finishers at the Louisiana oval.
The 30th annual Spooky 50 with the COMP Cams Super Dirt Series Super Late Models draws to a close on Saturday night with a $10,000-to-win program.
Joining the spotlight are Street, Tuners, Pro Mods, Crate Late Models, Limited Modifieds, Factory Stocks, and Sportsters.
On Saturday the gates open at 3 p.m. CT with on-track action at 6:30 p.m.
Saturday general admission is:
General Admission (ages 12-and-up): $20
General Admission (ages 6-11): $5
General Admission (ages 5-and-under): FREE
Saturday pit passes are $40 (ages 12-and-up) and kids (ages 6-11) are $20.
COMP Cams Super Dirt Series Purse (Saturday, Oct. 21)
1)$10,000 2)$5,000 3)$2,500 4)$1,750 5)$1,500 6)$1,250 7)$1,100 8)$1,050 9)$1,025 10)$1,000 11)$900 12)$800 13)$700 14)$650 15-22)$600
For more information on the facility, please visit www.SuperBeeSpeedway.com .
The COMP Cams Super Dirt Series is sponsored by and would like to thank all of their sponsors including- COMP Cams, Pannell Chipping, VP Racing Fuels, Mark Martin Automotive, Keyser Manufacturing, Hyperco, Weiland Metal Services, Case No. 1 Engine Oil, Fiber Tec Laser Cutting, P&W Sales, Mississippi Police Supply, Mr. Dent Paintless Dent Removal & Collision Repair, FloRacing, Tommy Surrett Trucking, NewVisionCustomShirts.com, Rocket Chassis, Midwest Sheet Metal, Black Diamond Chassis, World Racing Group, Hoosier Race Tires, Smiley's Racing Products, Dixon Road U-Pull-It, Beach Veterinarian Services, Air Power Consultants, Schoenfeld Headers, MI Truck Center, ASC Warranty, Quickcar Racing Products, Deatherage Opticians, Taylor Electric, DIRTcar Racing, Mid-State Golf Cars LLC, Delta Thunder Motorsports, Advanced Powder Coating, Farmer's Tree Service, Autocraft Paint & Bodyworks, Toyota, MSD, ARP, Edelbrock, MD3 Five Star Bodies, Chevrolet Performance, SUBLMTD Apparel, and MyRacePass Website & PR Services.
For the latest information on the COMP Cams Super Dirt Series presented by Lucas Oil, please visit www.COMPDirt.com.
COMP Cams Super Dirt Series – October 20, 2023
Super Bee Speedway (Chatham, La.)
Edelbrock A Feature 1 (40 Laps): 1. 8-Dillon McCowan[6]; 2. 86B-Kyle Beard[1]; 3. 11A-Bubba Mullins[2]; 4. 3K-Tanner Kellick[4]; 5. B17-Brandon Ball[10]; 6. 2T-Tyler Stevens[7]; 7. 14M-Morgan Bagley[14]; 8. 21JR-Billy Moyer Jr[5]; 9. 48-Billy Moyer Sr[16]; 10. 19-Jamie Burford[20]; 11. 86R-Neil Baggett[9]; 12. 6R-Robbie Stuart[8]; 13. 5-Jon Mitchell[12]; 14. 15-Clayton Stuckey[3]; 15. 12-Jamie Elam[11]; 16. R5-Hunter Rasdon[19]; 17. 1-BJ Robinson[17]; 18. 17-Jarret Stuckey[21]; 19. 5C-Brad Couch[15]; 20. 90R-Brian Rickman[13]; 21. 18-Ross Camponovo[18]
DNS: Jason Miles, Beau Begnaud, Ray Goodman, Jeremy Petty
Entries: 25
Mark Martin Automotive Group A Fast Qualifier (and overall):
Mark Martin Automotive Group B Fast Qualifier:
Mississippi Police Supply Heat Race #1 Winner: Kyle Beard
Delta Thunder Motorsports Heat Race #2 Winner: Bubba Mullins
SUBLMTD Heat Race #3 Winner: Clayton Stuckey
B-Main Winner: Billy Moyer
MD3 Five Star Bodies Hard Charger: Jamie Burford (20th-to-10th)
Lap Leaders: Bubba Mullins (1-11), Dillon McCowan (12-40)
Hyperco Hot Lap Fastest Lap: Kyle Beard (14.991 sec.)
Deatherage Opticians Lucky 13: Jon Mitchell
NewVisionCustomShirts.com Pole Sitter: Kyle Beard
COMP Cams Top Performer: Dillon McCowan
Midwest Sheet Metal Marked Man: Billy Moyer Jr.
Midwest Sheet Metal Rookie: Jamie Burford
Back to News