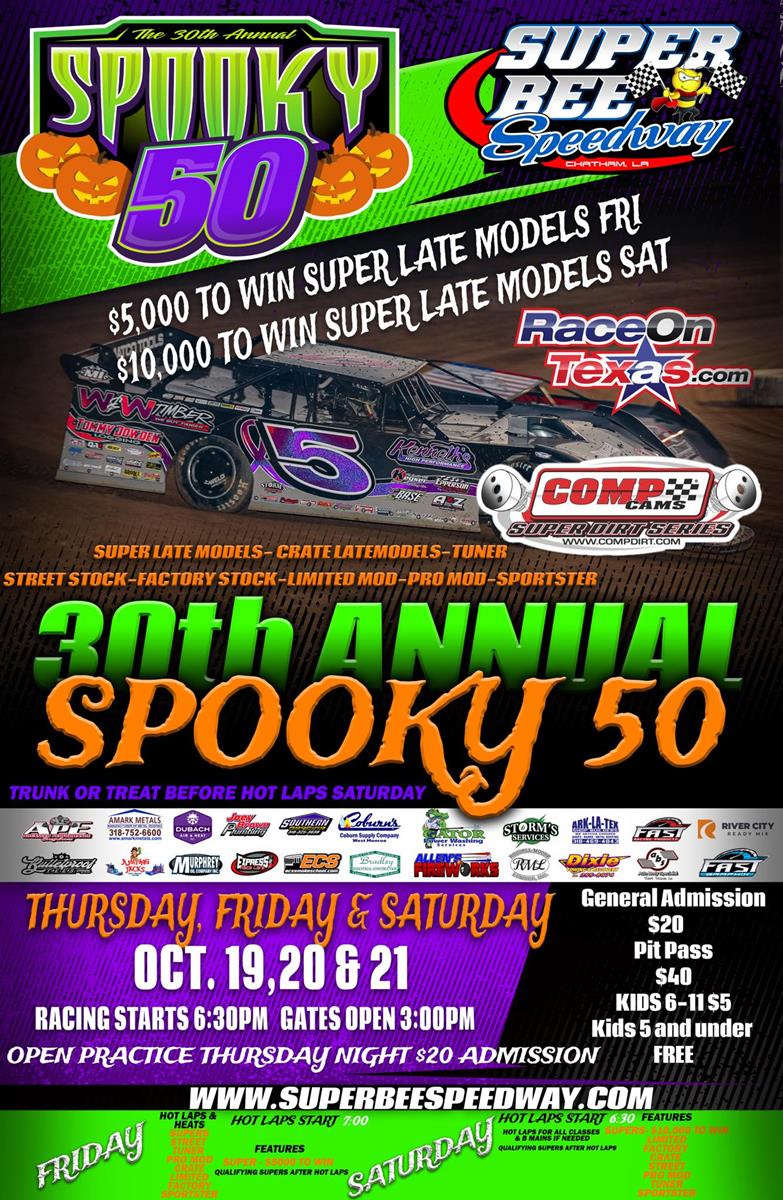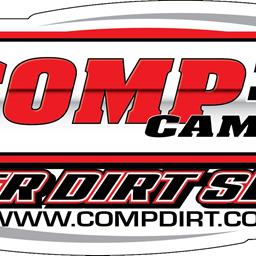 10/16/2023
COMP Cams Super Dirt Series (CCSDS)
---
COMP Cams Super Dirt Series Championship Weekend on Tap
CONWAY, Ark. (10/16/23) – The COMP Cams Super Dirt Series (CCSDS) Super Late Model Series is set for their 2023 championship weekend this Friday and Saturday as the tour thunders into Super Bee Speedway (Chatham, La.).
The 30th annual Spooky 50 festivities include a $5,000-to-win program on Friday and a $10,000-to-win slate on Saturday at the Louisiana oval.
"It's been a great year for our season, and we're looking forward to crowning a champion this weekend at Super Bee Speedway," CCSDS CEO Chris Sullivan said. "The Spooky 50 has a lot of history over the years, and it's an honor to put an exclamation on our 2023 season with the event this weekend."
Rolling into the final two events of the season, 2009 CCSDS Champion Billy Moyer is the Midwest Sheet Metal Marked Man atop the series standings with a 52-point advantage over 2013 and 2014 CCSDS Titlist, Kyle Beard. B.J. Robinson, who is pursuing his first-career championship with the tour is 59 points out of the lead.
Hunter Rasdon, Morgan Bagley, Brian Rickman, Jon Mitchell, Jamie Burford, Jarret Stuckey, Jon Kirby, Clayton Stuckey, and Chance Mann round out the current Top 12 in the standings.
Jamie Burford sits atop the Midwest Sheet Metal Rookie of the Year battle with a 21-point advantage over Jarret Stuckey. Chance Mann and Kylan Garner round out the battle for the rookie title.
The 30th annual Spooky 50 with the COMP Cams Super Dirt Series Super Late Models is set for Friday and Saturday, Oct. 20-21.
An Open Practice is set for Thursday, Oct. 19. From there the racing action kicks into high gear on Friday with a $5,000-to-win CCSDS program followed by a $10,000-to-win event on Saturday.
Joining the weekend's spotlight are Street, Tuners, Pro Mods, Crate Late Models, Limited Modifieds, Factory Stocks, and Sportsters.
On Friday and Saturday the gates open at 3 p.m. CT with on-track action at 6:30 p.m.
Friday and Saturday general admission is:
General Admission (ages 12-and-up): $20
General Admission (ages 6-11): $5
General Admission (ages 5-and-under): FREE
Friday and Saturday pit passes are $40 (ages 12-and-up) and kids (ages 6-11) are $20. Thursday pit passes are $20.
COMP Cams Super Dirt Series Purse (Friday, Oct. 20)
1)$5,000 2)$2,500 3)$1,750 4)$1,250 5)$1,000 6)$900 7)$850 8)$800 9)$750 10)$700 11)$650 12)$600 13)$550 14)$500 15)$450 16-22)$400
COMP Cams Super Dirt Series Purse (Saturday, Oct. 21)
1)$10,000 2)$5,000 3)$2,500 4)$1,750 5)$1,500 6)$1,250 7)$1,100 8)$1,050 9)$1,025 10)$1,000 11)$900 12)$800 13)$700 14)$650 15-22)$600
For more information on the facility, please visit www.SuperBeeSpeedway.com .
The COMP Cams Super Dirt Series is sponsored by and would like to thank all of their sponsors including- COMP Cams, Pannell Chipping, VP Racing Fuels, Mark Martin Automotive, Keyser Manufacturing, Hyperco, Weiland Metal Services, Case No. 1 Engine Oil, Fiber Tec Laser Cutting, P&W Sales, Mississippi Police Supply, Mr. Dent Paintless Dent Removal & Collision Repair, FloRacing, Tommy Surrett Trucking, NewVisionCustomShirts.com, Rocket Chassis, Midwest Sheet Metal, Black Diamond Chassis, World Racing Group, Hoosier Race Tires, Smiley's Racing Products, Dixon Road U-Pull-It, Beach Veterinarian Services, Air Power Consultants, Schoenfeld Headers, MI Truck Center, ASC Warranty, Quickcar Racing Products, Deatherage Opticians, Taylor Electric, DIRTcar Racing, Mid-State Golf Cars LLC, Delta Thunder Motorsports, Advanced Powder Coating, Farmer's Tree Service, Autocraft Paint & Bodyworks, Toyota, MSD, ARP, Edelbrock, MD3 Five Star Bodies, Chevrolet Performance, SUBLMTD Apparel, and MyRacePass Website & PR Services.
For the latest information on the COMP Cams Super Dirt Series presented by Lucas Oil, please visit www.COMPDirt.com.
Article Media
Back to News