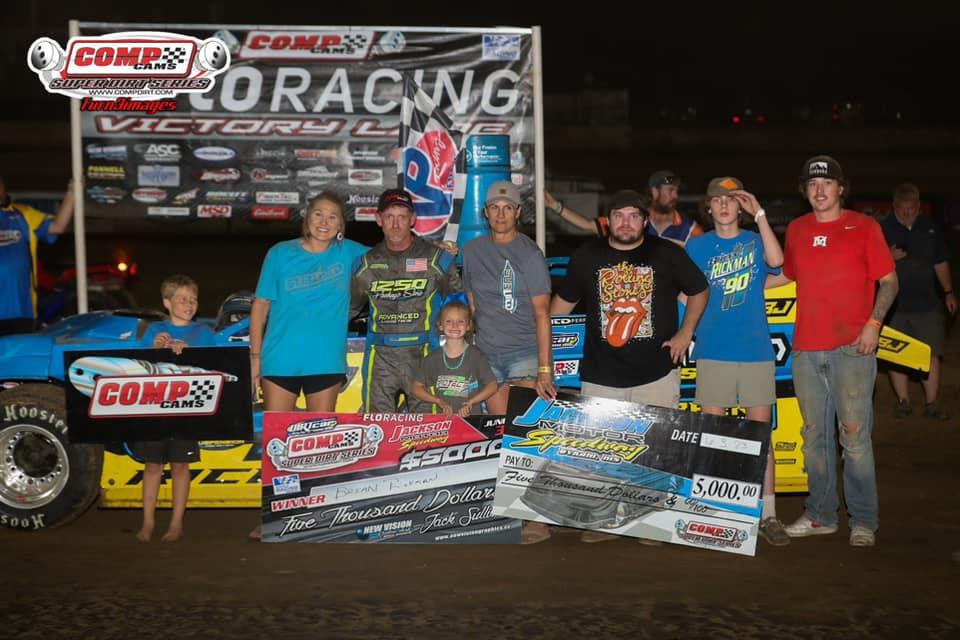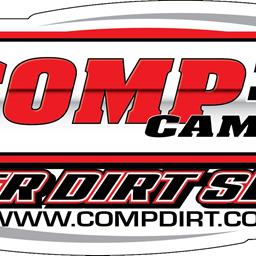 6/4/2023
COMP Cams Super Dirt Series (CCSDS)
---
Rickman Victorious in CCSDS Jackson Visit
BYRAM, Miss. (06/03/23) – Brian Rickman inherited the top spot when leader Billy Moyer Jr. had a flat with 12 circuits remaining, and the defending COMP Cams Super Dirt Series (CCSDS) champion went on to claim the $5,000 series victory on Saturday night at Jackson Motor Speedway.
After setting fast time in Mark Martin Automotive Group Qualifying, Moyer Jr. won his heat race to earn the NewVisionCustomShirts.com Pole Position for the 40-lap feature with Hunter Rasdon starting alongside.
Moyer Jr. paced the first 28 circuits before a flat tire forced him to relinquish the lead. Third-starting Brian Rickman inherited the top spot and paced the remainder of the event for his first CCSDS win of the season and eighth series triumph of his career.
After mechanical issues to start the night, current Midwest Sheet Metal Marked Man Kyle Beard stormed from the 21st-starting spot to finish second. With the performance he earned the night's MD3 Hard Charger Award.
B.J. Robinson, Hunter Rasdon, and Mikey Kyle completed the Top-5 finishers.
The CCSDS now turns its attention to a pair of $5,000-to-win events in Oklahoma next weekend. On Friday, June 9 the tour makes its debut at the recently revamped Arrowhead Speedway (Colcord, Okla.) before thundering into Tri-State Speedway (Pocola, Okla.) on Saturday, June 10.
The tire rule for the weekend is as follows:
All four tires Hoosier LM20, Hoosier NLMT2 with a right rear option of Hoosier LM30, Hoosier NLMT3.
For more information on the events, please visit www.ArrowheadSpeedway.com and www.Tri-StateSpeedway.com.
The COMP Cams Super Dirt Series is sponsored by and would like to thank all of their sponsors including- COMP Cams, Pannell Chipping, VP Racing Fuels, Mark Martin Automotive, Keyser Manufacturing, Hyperco, Weiland Metal Services, Case No. 1 Engine Oil, Fiber Tec Laser Cutting, P&W Sales, Mississippi Police Supply, Mr. Dent Paintless Dent Removal & Collision Repair, FloRacing, Tommy Surrett Trucking, NewVisionCustomShirts.com, Rocket Chassis, Midwest Sheet Metal, Black Diamond Chassis, World Racing Group, Hoosier Race Tires, Smiley's Racing Products, Dixon Road U-Pull-It, Beach Veterinarian Services, Air Power Consultants, Schoenfeld Headers, MI Truck Center, ASC Warranty, Quickcar Racing Products, Deatherage Opticians, Taylor Electric, DIRTcar Racing, Mid-State Golf Cars LLC, Delta Thunder Motorsports, Advanced Powder Coating, Farmer's Tree Service, Autocraft Paint & Bodyworks, Toyota, MSD, ARP, Edelbrock, MD3 Five Star Bodies, Chevrolet Performance, SUBLMTD Apparel, and MyRacePass Website & PR Services.
For the latest information on the COMP Cams Super Dirt Series presented by Lucas Oil, please visit www.COMPDirt.com .
COMP Cams Super Dirt Series – July 3, 2023
Jackson Motor Speedway (Byram, Miss.)
WEILAND A Feature 1 (40 Laps): 1. 90R-Brian Rickman[3]; 2. 86B-Kyle Beard[22]; 3. 1-BJ Robinson[4]; 4. R5-Hunter Rasdon[2]; 5. 25-Mikey Kile[5]; 6. 15-Clayton Stuckey[14]; 7. 86R-Rick Rickman[9]; 8. 14M-Morgan Bagley[8]; 9. USA128-Kylan Garner[12]; 10. 17-Jarret Stuckey[11]; 11. 21-Billy Moyer Jr[1]; 12. 19-Jamie Burford[18]; 13. 18-Jeremy Idom[10]; 14. 5-Jon Mitchell[7]; 15. 00J-Joe Sheddan[20]; 16. 88-Chance Mann[15]; 17. (DNF) C8-Timothy Culp[6]; 18. (DNF) 78-Matthew Brocato[17]; 19. (DNF) 05-Scott Abraham[13]; 20. (DNF) 31-Brett White[16]; 21. (DNF) USA1-Chris Hawkins[21]; 22. (DNS) 21XXX-Neil Baggett
Entries: 22
Mark Martin Automotive Fast Qualifier: Billy Moyer Jr. (15.933 sec.)
Integra Shocks & Springs Heat Race #1 Winner: Billy Moyer Jr.
P&W Sales Heat Race #2 Winner: Hunter Rasdon
VP Racing Fuels Heat Race #3 Winner: Brian Rickman
MD3 Five Star Bodies Hard Charger: Kyle Beard (21st-2nd)
Lap Leaders: Billy Moyer Jr. (1-28), Brian Rickman (29-40)
Hyperco Hot Lap Fastest Lap: Mikey Kile (15.910 seconds)
Deatherage Opticians Lucky 13: Jeremy Idom
NewVisionCustomShirts.com Pole Sitter: Billy Moyer Jr.
COMP Cams Top Performer: Brian Rickman
Midwest Sheet Metal Marked Man: Kyle Beard
Midwest Sheet Metal Rookie: Kylan Garner
Back to News