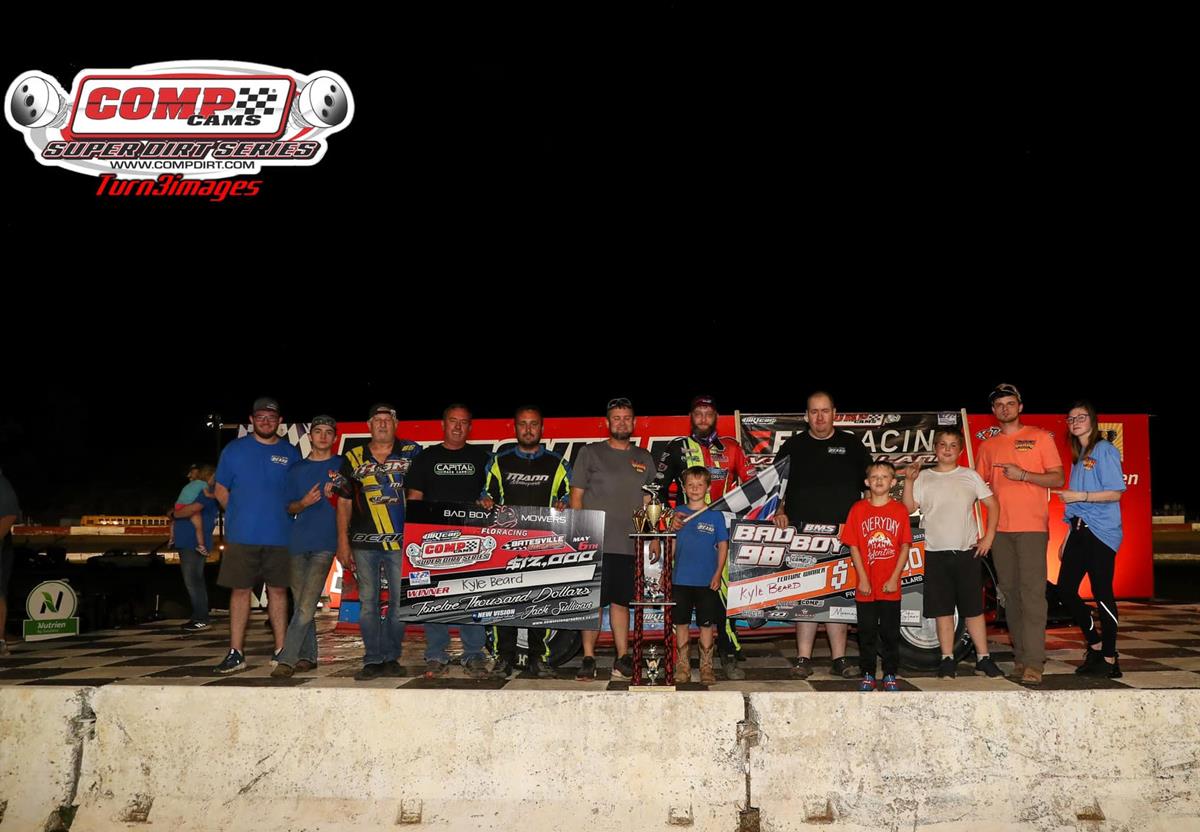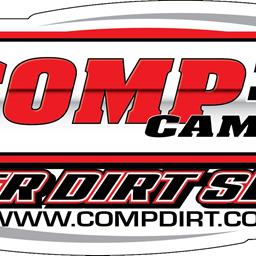 5/6/2023
COMP Cams Super Dirt Series (CCSDS)
---
Kyle Beard Races to $12,000 Triumph in Bad Boy 98 Finale
LOCUST GROVE, Ark. (05/06/23) – Current Midwest Sheet Metal Marked Man and two-time COMP Cams Super Dirt Series (CCSDS) Champion Kyle Beard banked the $12,000 triumph in Saturday night's finale of the Bad Boy 98 at Batesville Motor Speedway this weekend.
Beard rallied from the 16th-starting spot to take the lead on the 50th circuit, and then cruised to a 1.384-second win over Billy Moyer Jr., who lead laps 7-49.
From the NewVisionCustomShirts.com Pole Position, Ashton Winger led laps 1-6 before mechanical woes knocked him out of the event. Second-starting Billy Moyer Jr. paced laps 7-49 before seeing the hard-charging Kyle Beard taking the top spot and ultimately the win.
The win, which is the richest of Beard's career, made him the first multi-time victor on the series in 2023 and elevated his all-time win mark with the tour to 25.
Moyer Jr., Logan Martin, Billy Moyer, and 12th-starting Hunter Rasdon completed the Top-5 finishers.
Beard also collected the MD3 Bodies Hard Charger Award for motoring ahead 15 spots in the finale.
Next up for the CCSDS contingent is a May 19-20 Oklahoma doubleheader at Arrowhead Speedway (Colcord, Okla.) and Tri-State Speedway (Pocola, Okla.).
On Friday, May 19 the series makes its debut at the recently revamped Arrowhead Speedway (formerly known as West Siloam Speedway). The facilities grand re-opening night will be highlighted by the $5,000-to-win Fujita 50 for the COMP Cams Super Dirt Series. Joining the night's action will be the USRA Stock Cars, AmeriFlex USRA B-Mods, and USRA Tuners.
The season opening Fujita 50 headlined by the COMP Cams Super Dirt Series will see an 8:00 p.m. start time. Pit gates will officially open at 4:00 p.m. CT while spectator gates will open at 6:00 p.m.
Grandstand ticket prices are as follows: $25 for adults, $20 for seniors (62+) and Juniors (13-17), kids (6-12) get in for only $5 and kids under the age of 5 are free. Pit passes will be $40 for all ages 6 and up. Fans can forego the box office line by purchasing advanced tickets online at: https://www.myracepass.com/tracks/2832/tickets/1313544.
Action continues on Saturday night at Tri-State Speedway with another $5,000-to-win event. Also in action are the Medieval Chassis USRA Stock Cars, USRA B-Mods, and USRA Modifieds.
Pit gates open at 4:00 p.m. CT. Grandstands open at 6:00 p.m. Driver sign in ends at 6:30 p.m. sharp. Hot laps are scheduled for 7:00 p.m. with racing to follow.
For more information on the weekend, please visit www.ArrowheadSpeedway.com and www.Tri-StateSpeedway.com .
The COMP Cams Super Dirt Series is sponsored by and would like to thank all of their sponsors including- COMP Cams, Pannell Chipping, VP Racing Fuels, Mark Martin Automotive, Keyser Manufacturing, Hyperco, Weiland Metal Services, Case No. 1 Engine Oil, Fiber Tec Laser Cutting, P&W Sales, Mississippi Police Supply, Mr. Dent Paintless Dent Removal & Collision Repair, FloRacing, Tommy Surrett Trucking, NewVisionCustomShirts.com, Rocket Chassis, Midwest Sheet Metal, Black Diamond Chassis, World Racing Group, Hoosier Race Tires, Smiley's Racing Products, Dixon Road U-Pull-It, Beach Veterinarian Services, Air Power Consultants, Schoenfeld Headers, MI Truck Center, ASC Warranty, Quickcar Racing Products, Deatherage Opticians, Taylor Electric, DIRTcar Racing, Mid-State Golf Cars LLC, Delta Thunder Motorsports, Advanced Powder Coating, Farmer's Tree Service, Autocraft Paint & Bodyworks, Toyota, MSD, ARP, Edelbrock, MD3 Five Star Bodies, Chevrolet Performance, SUBLMTD Apparel, and MyRacePass Website & PR Services.
For the latest information on the COMP Cams Super Dirt Series presented by Lucas Oil, please visit www.COMPDirt.com .
COMP Cams Super Dirt Series – May 6, 2023
Batesville Motor Speedway (Locust Grove, Ark.)
A Feature 1 (68 Laps): 1. 86B-Kyle Beard[16]; 2. 21JR-Billy Moyer Jr[2]; 3. 36-Logan Martin[3]; 4. 21-Billy Moyer Sr[4]; 5. R5-Hunter Rasdon[12]; 6. 14M-Morgan Bagley[18]; 7. 97-Cade Dillard[6]; 8. 90R-Brian Rickman[5]; 9. 25-Mikey Kile[15]; 10. 5-Jon Mitchell[7]; 11. 1-BJ Robinson[10]; 12. 81-Troy Bynum[11]; 13. 19-Jamie Burford[13]; 14. 11-Jon Kirby[19]; 15. 93-Mason Oberkramer[17]; 16. 17-Jarret Stuckey[21]; 17. 60-Kip Hughes[8]; 18. 15-Clayton Stuckey[22]; 19. USA128-Kylan Garner[14]; 20. C8-Timothy Culp[20]; 21. 86R-Rick Rickman[9]; 22. 12-Ashton Winger[1]
DNS: Chris Hawkins, Steven Crocker, Dustin Holmes, Travis Ashley, Brennon Willard, Chance Mann, Wesley Wise, David Payne, Seth Reed
Entries: 31
Mark Martin Automotive Fast Qualifier Group A & Overall: Ashton Winger (13.892 sec.)
Mark Martin Automotive Fast Qualifier Group B: Cade Dillard (14.130 sec.)
Integra Shocks & Springs Heat Race #1 Winner: Ashton Winger
P&W Sales Heat Race #2 Winner: Logan Martin
VP Racing Fuels Heat Race #3 Winner: Billy Moyer Jr.
Weiland Metal Services Race #4 Winner: Billy Moyer
B-Main Winners: Mason Oberkramer
MD3 Five Star Bodies Hard Charger: Kyle Beard (16th-to-1st)
Lap Leaders: Ashton Winger (1-6), Billy Moyer Jr. (7-49), Kyle Beard (50-68)
Hyperco Hot Lap Fastest Lap: Cade Dillard (13.962 seconds)
Deatherage Opticians Lucky 13: Jamie Burford
NewVisionCustomShirts.com Pole Sitter: Ashton Winger
COMP Cams Top Performer: Kyle Beard
Midwest Sheet Metal Marked Man: Kyle Beard
Midwest Sheet Metal Rookie: Kylan Garner
Back to News