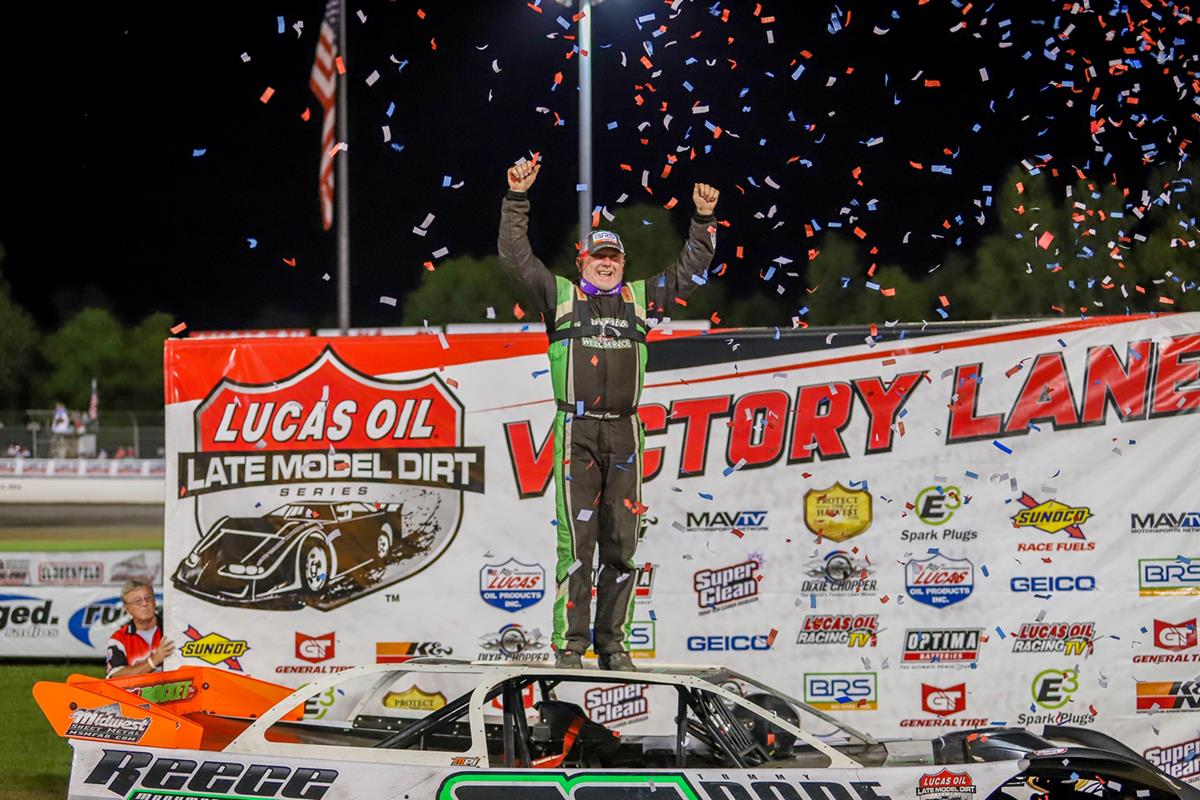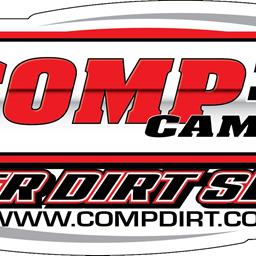 6/21/2020
COMP Cams Super Dirt Series (CCSDS)
---
Jimmy Owens Conquers General Tire Clash at the Mag Four-For-Four Firecracker Nationals Up Next for CCSDS on July 1-4
FOR IMMEDIATE RELEASE
Contact: Ben Shelton (msrmafia@gmail.com)
June 20, 2020
Jimmy Owens Conquers General Tire Clash at the Mag
Four-For-Four Firecracker Nationals Up Next for CCSDS on July 1-4
Columbus, Mississippi (06/20/20) – Magnolia Motor Speedway hosted the final night of the annual General Tire Clash at The Mag presented by Big River Steel on Saturday evening.
After overcoming challenges from Tyler Erb and Shane Clanton, Newport, Tennessee's Jimmy Owens ultimately raced to the $15,000 triumph in the 100-lap finale.
"This place is so hard to lead at because the groove can change often. There in a 10 lap or so span the groove changed like four times, so I had to keep searching," Owens commented. "Late in the race my car wasn't quite as good as it needed to be in the crumbs, but the cautions helped get us into clean track. I can't say enough about this Ramirez Motorsports team and well everything is going right now. We can't wait to get to the next events."
Via his performances in preliminary night action, Jimmy Owens earned the New Vision Graphics Pole Award for the $15,000-to-win finale, while Texas' native Tyler Erb started alongside.
Owens jumped to the lead as the 100-lap finale went green at the 3/8-mile oval. He set a blistering pace with Tyler Erb and Shane Clanton in tow. Exiting turn four on lap 16 as the leaders diced through heavy traffic, Erb and Clanton split Owens to take over the 1-2 spots in the running order.
Erb led for two circuits before Clanton shot past for the lead on lap 18.
Following a lap 22 caution, Owens mounted a charge past Clanton into the lead on the 23rd circuit. With Clanton, Erb, Bobby Pierce and Tim McCreadie in tow, the field raced through the halfway mark of the finale.
A trio of cautions bunched the running order during the second half of the finale, with the most significant coming on lap 82 as Owens navigated heavy traffic. The three-time series champion and current LOLMDS point leader went on to pick up his second victory in as many nights. Clanton was second, while Josh Richards came home in third after passing several cars on the lap 82 restart. Pierce and Erb completed the Top-5 finishers.
The COMP Cams Super Dirt Series (CCSDS) Super Late Models take a one-week break before returning to action with the inaugural Four-For-Four Firecracker Nationals. The four-race swing spans July 1-4 and visits four tracks in three states. Each feature pays $4,000 to win, but the big money doesn't stop there.
The Mark Martin Automotive Challenge posts a $10,000 bonus for a driver, who can win all four events. If a single driver can win three of the races, they'll receive a $5,000 bonus.
Action opens on Wednesday, July 1 with the Hammer Hill Twin Bill at Tracey Clay's I-30 Speedway (Little Rock, Arkansas). A Sprint Car special will also join the night's festivities. Then, on Thursday, July 2 the action shifts south to Ark-La-Tex Speedway (Vivian, Louisiana) before moving east on Friday, July 3 to LoneStar Speedway (Kilgore, Texas). The weekend draws to a close on Saturday night at Boothill Speedway (Greenwood, Louisiana).
All features will pay $4,000 to win and $400 to start.
The COMP Cams Super Dirt Series presented by Lucas Oil is sponsored by and would like to thank all of their sponsors including- COMP Cams, Lucas Oil, Pannell Chipping, VP Racing Fuels, Mark Martin Automotive, Keyser Manufacturing, P&W Sales, Allen Manufacturing, Integra Shocks, New Vision Graphics, Rocket Chassis, Midwest Sheet Metal, DirtOnDirt.com, Black Diamond Chassis, Larry Shaw Race Cars, Midwest Automation, Hoosier Race Tires, Bennings Heating & Air, Smiley's Racing Products, Dixon Road U-Pull-It, Bad Boy Mowers, Beach Veterinarian Services, Air Power Consultants, Schoenfeld Headers, Hooker Harness, MI Truck Center, ASC Warranty, Quickcar Racing Products, Taylor Electric, M&M Paint, Horns Outdoors, Mid-State Golf Cars LLC, Delta Thunder Motorsports, Elia's Mexican Grill, Advanced Powder Coating, and MSR Mafia Marketing Services.
For the latest information on the COMP Cams Super Dirt Series presented by Lucas Oil, please visit www.COMPDirt.com .
COMP Cams Super Dirt Series – June 20, 2020
General Tire Clash at the Mag presented by Big River Steel
Magnolia Motor Speedway (Columbus, Mississippi)
Feature Finish
1)Jimmy Owens 2)Shane Clanton 3)Josh Richards 4)Bobby Pierce 5)Tyler Erb 6)Kyle Bronson 7)Devin Moran 8)Jesse Stovall 9)Tanner English 10)Tim McCreadie 11)Michael Page 12)Frank Heckenast Jr. 13)Timothy Culp 14)Shanon Buckingham 15)Hudson O'Neal 16)Ross Bailes 17)Tyler Bruening 18)Logan Martin 19) Johnny Scott 20)Neil Baggett 21)Drew Armstrong 22)Jonathan Davenport 23)Billy Moyer 24)Michael Arnold 25)Earl Pearson Jr. 26)Spencer Hughes 27)Joseph Joiner 28)Billy Moyer Jr. 29)Stormy Scott
DNS: Morgan Bagley, Chad Mallett, Robbie Stuart, Scott Dedwylder, Chris Brown, Shelby Sheedy, David Breazeale, Zach Combs, Devin Gilpin, Hunter Rasdon, Steven Roberts, Doug Sanchagrin, Brian Rickman, Rick Rickman, Kyle Beard, Chad Thrash, Austin Smith, Nick Thrash, Joe Godsey, Justin McRee, David Payne, Eric Cooley, Luke Bennett, Jamie Elam, Josh Putnam, B.J. Robinson
Entries: 55
Keyser Manufacturing B-Main #1 Winner: Michael Arnold
Dixon Road U-Pull-It B-Main #2 Winner: Shanon Buckingham
New Vision Graphics Pole Sitter: Jimmy Owens
COMP Cams Top Performer: Jimmy Owens
Lap Leaders: Jimmy Owens (1-15, 23-100), Tyler Erb (16-17), Shane Clanton (18-22),
Contingency Awards
Mark Martin Fast Qualifier Award ($100): Jimmy Owens
Midwest Sheet Metal Marked Man Award ($50): Timmy Culp
Midwest Sheet Metal Rookie of the Race Award ($50): Spencer Hughes
VP Racing Fuels 5th-Place Award ($50): Hunter Rasdon
Black Diamond Chassis 6th-Place Award ($50): B.J. Robinson
Bennings Heating & Air 7th-Place Award ($50): Chad Mallett
Horns Outdoors 8th-Place Award ($50): Brian Rickman
Keyser Manufacturing 9th-Place Award ($50): Timothy Culp
Rocket Chassis 10th-Place Award ($50): Logan Martin
Mid-State Golf Cars 11th-Place Award ($50): David Payne
ASC Warranty 12th-Place Award ($50): Kyle Beard
Midwest Automation 13th-Place Award ($50): Rick Rickman
P&W Sales 14th-Place Award ($50): Morgan Bagley
Dixon Road U-Pull-It 15th-Place Award ($50): Jesse Stovall
Delta Thunder Motorsports 16th-Place Award ($50): Neil Baggett
Integra Shocks 17th-Place Award ($50): Morgan Bagley
Elia's Mexican Grill 18th-Place Award ($50): Drew Armstrong
Ben Shelton, Owner
MSR Mafia Marketing Services
---
Article Credit: Ben Shelton
Back to News