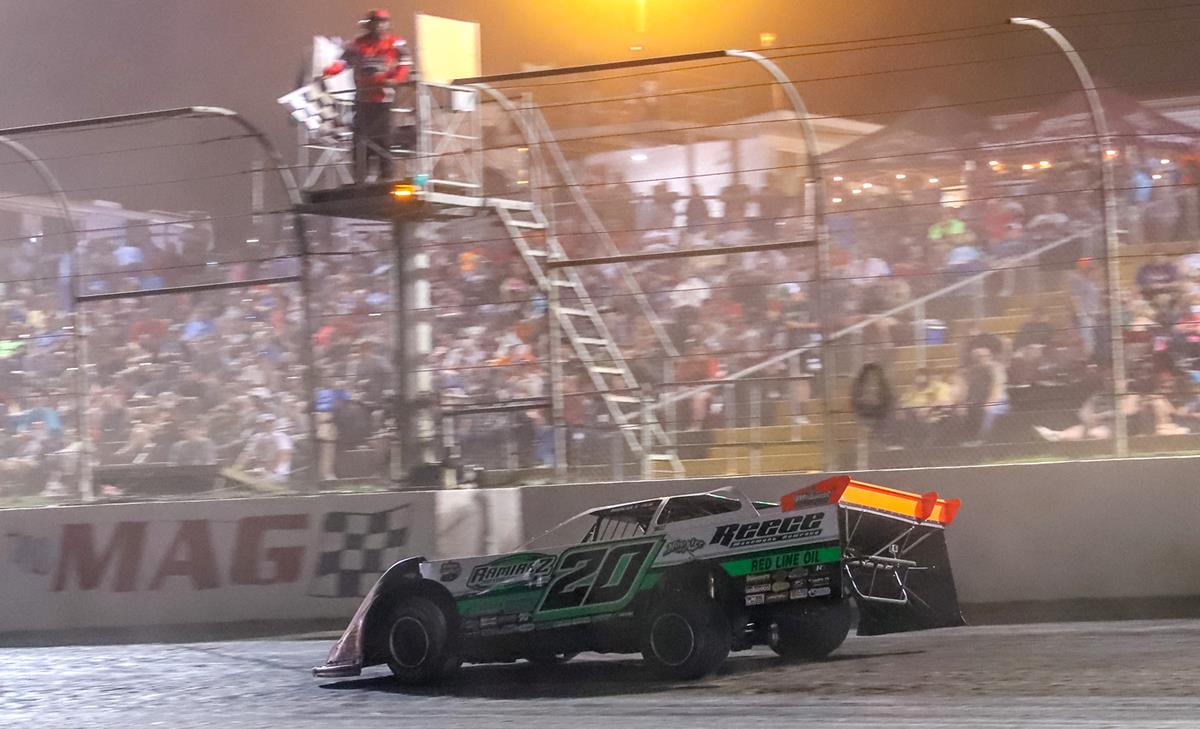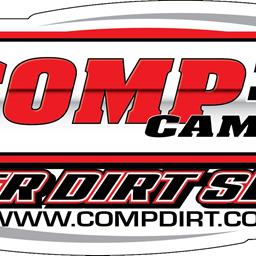 6/20/2020
COMP Cams Super Dirt Series (CCSDS)
---
Jimmy Owens Pockets $5,000 for Friday Night Magnolia Win General Tire Clash at The Mag presented by Big River Steel Finale Saturday
FOR IMMEDIATE RELEASE
Contact: Ben Shelton (msrmafia@gmail.com)
June 19, 2020
Jimmy Owens Pockets $5,000 for Friday Night Magnolia Win
General Tire Clash at The Mag presented by Big River Steel Finale Saturday
Columbus, Mississippi (06/19/20) – One night after coming up just short of completing a sweep of the night's qualifying, heat race, and feature action, Jimmy Owens bounced back on Friday night to snare the $5,000 winner's check at Magnolia Motor Speedway.
The victory came with the COMP Cams Super Dirt Series (CCSDS) Super Late Models and Lucas Oil Late Model Dirt Series (LOLMDS) during the second round of the annual General Tire Clash at The Mag presented by Big River Steel.
For the second-straight night, Jimmy Owens started in the New Vision Graphics Pole Position for the 25-lap prelim and was this time joined on the front row by Tyler Erb. Owens shot to a commanding lead at the drop of the green flag as Erb stumbled out of the gate and slipped back to fourth.
Multiple cautions plagued the next few laps as Owens had to fend away charges from Josh Richards and Tyler Erb on the ensuing restarts.
Richards charged past Owens exiting turn four to lead lap 19, but Owens retook the lead in turn one. From there the Tennessee racer crept away from the pack to claim his second-career CCSDS win. Richards, Erb, Frank Heckenast Jr., and Michael Page completed the Top-5 finishers.
"It was tough to lead tonight because the track kept changing. Josh [Richards] got by me that one lap, but luckily I was able to get the lead back from him down in turn one," Owens shared. "I can't say enough about this Ramirez Motorsports / Rocket Chassis with Vic Hill power. This car is really good right now, and I'm really looking forward to tomorrow night's 100 lapper."
The General Tire Clash at the Mag - Presented by Big River Steel earthshaking finale is set for Saturday, June 20. The night's LOLMDS / CCSDS program is headlined by B-Mains capped by a $15,000-to-win, 100-lap finale, which will be shown on MAVTV at a later date. Rounding out the program are the MSSS Street Stocks ($1,000-to-win / $75-to-start), Crate Racin' USA Late Models ($1,000-to-win / $50-to-start), and Glenn's BBQ and Fish Late Model Sportsman ($500-to-win / $50-to-start).
Saturday's drivers meeting is at 6:30 p.m. with racing action starting at 7:00 p.m.
Big River Steel is the world's first Flex Mill. The company broke ground in 2014 in northeast Arkansas and began steel production in 2016.
Big River Steel takes a visionary, entrepreneurial approach to the ever-changing American manufacturing industry. The company employees the best steel technicians in the business and has equipped them with the most advanced technology. This allows the Big River Steel to meet the steel customer's needs not only today but also a decade from now.
To learn more about Big River Steel, please visit their website at www.BIGRIVERSTEEL.com .
For those unable to attend, all three nights of the event will air live on www.LucasOilRacing.TV .
Saturday grandstand admission is $35 for adults with kids (ages 6-10) $5 and children (ages 5 & under) free.
Saturday pit admission is $40 for adults with kids (ages 6-10) $30, and Kids (ages 5 & under) free.
A Four Wheeler / ATV / Side-By-Side pit pass for the weekend is $25.
For more information on the event, please call Johnny Stokes at 662-574-2572 or the track at 662-240-3478 and visit the track's website at www.MagnoliaDirt.com
The COMP Cams Super Dirt Series presented by Lucas Oil is sponsored by and would like to thank all of their sponsors including- COMP Cams, Lucas Oil, Pannell Chipping, VP Racing Fuels, Mark Martin Automotive, Keyser Manufacturing, P&W Sales, Allen Manufacturing, Integra Shocks, New Vision Graphics, Rocket Chassis, Midwest Sheet Metal, DirtOnDirt.com, Black Diamond Chassis, Larry Shaw Race Cars, Midwest Automation, Hoosier Race Tires, Bennings Heating & Air, Smiley's Racing Products, Dixon Road U-Pull-It, Bad Boy Mowers, Beach Veterinarian Services, Air Power Consultants, Schoenfeld Headers, Hooker Harness, MI Truck Center, ASC Warranty, Quickcar Racing Products, Taylor Electric, M&M Paint, Horns Outdoors, Mid-State Golf Cars LLC, Delta Thunder Motorsports, Elia's Mexican Grill, Advanced Powder Coating, and MSR Mafia Marketing Services.
For the latest information on the COMP Cams Super Dirt Series presented by Lucas Oil, please visit www.COMPDirt.com .
COMP Cams Super Dirt Series – June 19, 2020
General Tire Clash at the Mag presented by Big River Steel
Magnolia Motor Speedway (Columbus, Mississippi)
Feature Finish
1)Jimmy Owens 2)Josh Richards 3)Tyler Erb 4)Frank Heckenast Jr. 5)Michael Page 6)Shane Clanton 7)Tim McCreadie 8)Devin Moran 9)Jonathan Davenport 10)Bobby Pierce 11)Billy Moyer 12)Kyle Bronson 13)Joseph Joiner 14)Brian Rickman 15)Chris Brown 16)Spencer Hughes 17)Drew Armstrong 18)Kyle Beard 19)Neil Baggett 20)Morgan Bagley 21)Billy Moyer Jr. 22)Devin Gilpin 23)Michael Arnold 24)Scott Dedwylder
DNS: Shanon Buckingham, Earl Pearson Jr., Johnny Scott, Steven Roberts, Timothy Culp, Logan Martin, BJ Robinson, Chad Mallett, Chad Thrash, Hunter Rasdon, Tyler Bruening, Rick Rickman, Robbie Stuart, Justin McRee, Eric Cooley, Shelby Sheedy, David Payne, Jamie Elam, David Breazeale, Stormy Scott, Josh Putnam, Ross Bailes, Tanner English, Austin Smith, Hudson O'Neal, Joe Godsey, Nick Thrash, Jesse Stovall
Entries: 52
Group A Fast Qualifier (and Overall): Jimmy Owens (14.944 seconds)
Group B Fast Qualifier: Tyler Erb
Integra Shocks & Springs Heat Race #1 Winner: Jimmy Owens
P&W Sales Heat Race #2 Winner: Chris Brown
VP Racing Fuels Heat Race #3 Winner: Josh Richards
Midwest Sheet Metal Heat Race #4 Winner: Tyler Erb
Hoosier Race Tires Heat Race #5 Winner: Billy Moyer
Pannell Chipping Heat Race #6 Winner: Spencer Hughes
Keyser Manufacturing B-Main #1 Winner: Joseph Joiner
Dixon Road U-Pull-It B-Main #2 Winner: Devin Gilpin
Allen Manufacturing B-Main #3 Winner: Bobby Pierce
New Vision Graphics Pole Sitter: Jimmy Owens
COMP Cams Top Performer: Jimmy Owens
Lap Leaders: Jimmy Owens (1-18, 20-25), Josh Richards (19)
Ben Shelton, Owner
MSR Mafia Marketing Services
---
Article Credit: Ben Shelton
Back to News