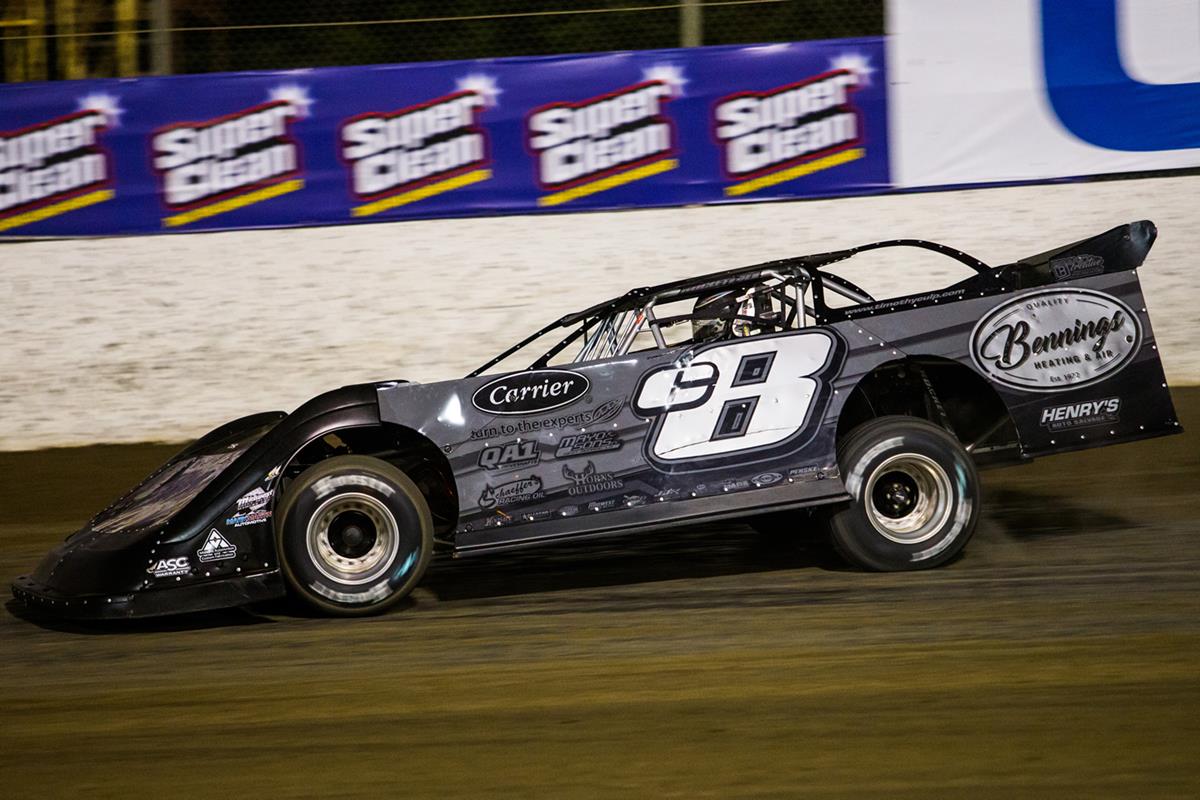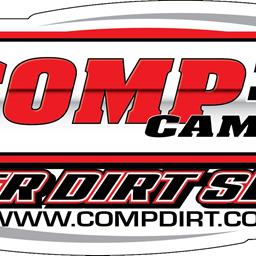 6/6/2020
COMP Cams Super Dirt Series (CCSDS)
---
Timothy Culp Wires CCSDS Field at Texarkana 67 Speedway Action Continues on Saturday Night with the Rockabilly 45 at I-30 Speedway
FOR IMMEDIATE RELEASE
Contact: Ben Shelton (msrmafia@gmail.com)
June 5, 2020
Texarkana, Arkansas (06/05/20) – Timothy Culp returned to his winning ways on Friday night. The Louisiana native led flag-to-flag to at Texarkana 67 Speedway to pick up the $3,0000 COMP Cams Super Dirt Series (CCSDS) Super Late Model victory.
The defending CCSDS Champion made a clean sweep of the night by setting fast time in Mark Martin Automotive Time Trials, winning his heat, and leading every lap of the 40-lap finale from the New Vision Graphics Pole Position.
Behind Culp, a great battle raged for the second spot between B.J. Robinson, Hunter Rasdon and Jesse Stovall. At the finish line, Robinson, Rasdon, Stovall and Mitchell completed the Top-5 finishers.
Culp's victory came by more than two seconds over his closest pursuer and marked his second of the 2020 campaign.
On Saturday, June 6 the 10th annual Rockabilly 45 is set to roll at Tracey Clay's I-30 Speedway (Little Rock, Arkansas). Competitors will be looking to race their way into $5,000-to-win / $500-to-start finale. Gates open at 4:00 p.m. with hot laps at 7:00 p.m. and racing action at 7:30 p.m.
Saturday adult grandstand admission is $20, while kids (ages 12 and under) are free in the grandstand area when accompanied by an adult, compliments of Central Arkansas Pest Services. Pit passes are $35.
Fans are asked to please practice social distancing from fellow race patrons outside of your group. Masks and hand sanitizer aren't required but are recommended.
For more information on the event, please visit www.I-30Speedway.com .
The tire rule for both events is Hoosier 1350 on all four corners with an LM40 Right-Rear option.
The COMP Cams Super Dirt Series presented by Lucas Oil is sponsored by and would like to thank all of their sponsors including- COMP Cams, Lucas Oil, Pannell Chipping, VP Racing Fuels, Mark Martin Automotive, Keyser Manufacturing, P&W Sales, Allen Manufacturing, Integra Shocks, New Vision Graphics, Rocket Chassis, Midwest Sheet Metal, DirtOnDirt.com, Black Diamond Chassis, Larry Shaw Race Cars, Midwest Automation, Hoosier Race Tires, Bennings Heating & Air, Smiley's Racing Products, Dixon Road U-Pull-It, Bad Boy Mowers, Beach Veterinarian Services, Air Power Consultants, Schoenfeld Headers, Hooker Harness, MI Truck Center, ASC Warranty, Quickcar Racing Products, Taylor Electric, M&M Paint, Horns Outdoors, Mid-State Golf Cars LLC, Delta Thunder Motorsports, Elia's Mexican Grill, Advanced Powder Coating, and MSR Mafia Marketing Services.
For the latest information on the COMP Cams Super Dirt Series presented by Lucas Oil, please visit www.COMPDirt.com .
COMP Cams Super Dirt Series – June 5, 2020
Texarkana 67 Speedway (Texarkana, Arkansas)
Feature Finish
1)Timothy Culp 2)B.J. Robinson 3)Hunter Rasdon 4)Jesse Stovall 5)Jon Mitchell 6)Kyle Beard 7)Spencer Hughes 8)Logan Martin 9)Robert Baker 10)Brian Rickman 11)Morgan Bagley 12)Rick Rickman 13)Neil Baggett 14)Steve Stultz 15)Kaeden Cornell 16)Payton Looney 17)David Payne 18)Brett Frazier 19)Joe Godsey 20)Drew Armstrong
DNS: Jon Driskell, Matthew Tribble, Ross Farmer, Cole Farmer, Jerrell Harper, Derrick Nichols, Chad Mallett, Brad Couch
Entries: 28
Mark Martin Automotive Group A Fast Qualifier (and Overall): Timothy Culp (14.352 seconds)
Mark Martin Automotive Group B Fast Qualifier: Hunter Rasdon (14.916 seconds)
Integra Shocks & Springs Heat Race #1 Winner: Timothy Culp
P&W Sales Heat Race #2 Winner: B.J. Robinson
VP Racing Fuels Heat Race #3 Winner: Hunter Rasdon
Midwest Sheet Metal Heat Race #4 Winner: Jesse Stovall
New Vision Graphics Pole Sitter: Timothy Culp
Keyser Manufacturing B-Main #1 Winner: Payton Looney
COMP Cams Top Performer: Timothy Culp
Lap Leaders: Timothy Culp (1-40)
Contingency Awards
Mark Martin Fast Qualifier Award ($100): Timothy Culp
Midwest Sheet Metal Marked Man Award ($50): Jesse Stovall
Midwest Sheet Metal Rookie of the Race Award ($50): Spencer Hughes
VP Racing Fuels 5th-Place Award ($50): Jon Mitchell
Black Diamond Chassis 6th-Place Award ($50): Kyle Beard
Bennings Heating & Air 7th-Place Award ($50): Spencer Hughes
Horns Outdoors 8th-Place Award ($50): Logan Martin
Keyser Manufacturing 9th-Place Award ($50): Robert Baker
Rocket Chassis 10th-Place Award ($50): Brian Rickman
Mid-State Golf Cars 11th-Place Award ($50): Morgan Bagley
ASC Warranty 12th-Place Award ($50): Rick Rickman
Midwest Automation 13th-Place Award ($50): Neil Baggett
P&W Sales 14th-Place Award ($50): Steve Stultz
Dixon Road U-Pull-It 15th-Place Award ($50): Kaeden Cornell
Delta Thunder Motorsports 16th-Place Award ($50): Payton Looney
Integra Shocks 17th-Place Award ($50): David Payne
Elia's Mexican Grill 18th-Place Award ($50): Brett Frazier
---
Article Credit: Ben Shelton
Back to News